It seems like there's a new Mac update every fucking week, is the macOS Catalina any different?
APPLE NEWS
– I don't usually like the OS updates because they rarely ever change shit and they take years to download. I did however like the past Mojave update because it gave us
Dark Mode
(Click the link to see how to enable it).
I'm not even gonna front, I was skeptical when I saw this new Catalina update because there was no absolute way in hell that there'd be any major changes, right? Here is what the hype is all about (I don't think there's any hype about this unless you're a techboi like me).
"Enjoy your favorite iPad apps now on your Mac. Extend your workspace and expand your creativity with iPad and Apple Pencil."
So essentially you can work on–let's say your iPad, and doodle shit with your Apple Pen that would mirror your work on your Macbook. This function could be cool if you're an artist or do graphic design on your iPad and want to see the visual display on your Macbook or iMac. I personally might like this because I exclusively take notes on my iPad for everything (college notes, doodling notes, suicide notes, etc), so it might be nice seeing my writing in live time display on my Mac.
I think they also implemented the new Apple Music and Apple TV app, which in turn aborts iTunes. Your music is still going to be there but in the form of the Apple Music app. They are splitting everything up into their own categories now for the moneys.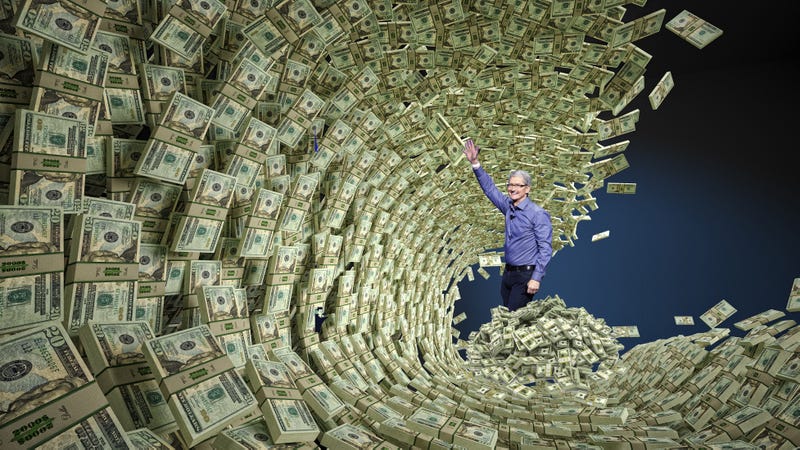 CEO of Apple, Tim Cook making money.
That is all folks. If absolutely none of this crap applied to you or you couldn't give two shits about this new update, I wouldn't waste putting the 8GB onto your hard drive. Stick with whatever you have, unless you haven't updated your computer in years.
DISCLAIMER:
I would double-check if an update would even be suitable for your laptop or desktop if you have a really outdated device. Sometimes older computers can stop working if you try doing a crazy new update without sufficient memory or a backup. Refer to an Apple specialist at your local mall if an update is right for you.
Let me know if you updated.
[Click this link to read more and update]